meeting seminar
214 N. Trenton Ave. Pittsburgh, Pennsylvania United States 15221
Map
>
Date: June 28 2019.
Time: 06:00 PM to 08:30 PM (EDT)
Speaker: Mark Barlow
Location:
214 N. Trenton Ave.
Pittsburgh, Pennsylvania
United States 15221
Cost: Free
RSVP: Required.
Event Details & Registration: (URL)
Summary:
Join us in appreciating the life and achievements of electrical engineer Nikola Tesla! We will reflect on Tesla's past, recognize his contributions to the present, and consider his warnings about the future. The presentation will touch on aspects of Tesla's life, the impact of AC power, and the Tesla Coil.
And YES…… This presentation will include "Live" Tesla Coil demonstrations!
A tour of the Protohaven facility will also be available a few minutes before the presentation starts!
Biography: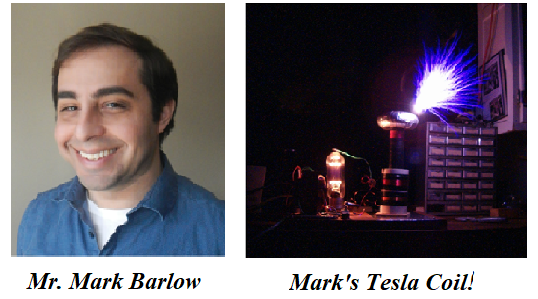 Mr. Mark Barlow has 8 years experience in the energy industry working with power electronics, solar photovoltaic grid tied and battery storage power systems. His years of experience include employment with solar equipment integrators, applications engineering, and utility analytics.
Mark established his own company DC to Power, LLC in 2011 to provide technical assistance on energy projects with the ambition of making solar energy more cost effective.
Additionally, Mark has 3 years of reliability engineering experience from the semiconductor industry; he has been a member of the IEEE for 16 years and a Tesla Coil Builder for the last 22 years.
Mr. Barlow received his Masters of Science in Engineering from Youngstown State University where he completed his thesis on the topic of fabricating Schottky Diodes on Silicon Carbide.